Online business is not only about getting a lot of traffic. Building trust among your audience is also equally important. There may be a lot of ways to do that, but only a few areas are advantageous such as online reviews.
Showing reviews on your business website will help you build a strong brand identity and gain credibility. Visitors are more likely to trust the opinion of other customers before purchasing your product or service. Plus, improving your product based on that feedback will be more helpful as this will show how much you value their response.
In this read, we'll talk about why online reviews are crucial for your online business.
What is 'Social Proof' and its Importance?
If you have done any shopping online, you will know how much the reviews matter. Most of us spend a lot of time reading the feedbacks before making the purchase.
Wondering why are these opinions from strangers so important? Let us explain.
'Social proof' is a term that is a psychological phenomenon where people tend to follow the actions of others, as they believe those actions are appropriate. In short, people are more likely to pursue the same actions if they see others doing the same thing.
The social proof really works well because it's a human tendency to trust the point of view of people around us. A study shows, 92% trusts recommendation that comes from someone they know while 70% of people believes that comes from a stranger. This scenario can be compared to that of standard reception brand marketing- only 36% of shoppers believe that large companies will always tell the truth. Now, that's because people know, businesses exist completely by selling consumers their things.
Thus, a lot of them are skeptical about what companies claim about their own products. That's why they trust more on customer reviews rather than just following what companies say.
Importance of Online Customer Reviews
If you too have an online business, then showing your customer reviews is a perfect solution to the issue discussed above. Your conversion rates are likely to increase when your potential customers read it from people who have already used your product or services.
Adding real feedback on your website will help you build brand loyalty. Doing this, will let your customers feel that they are valued by your company. Building trust is really important, especially if you are a startup. Also, this is a good way to stand out from your competitors.
To catch the attention of your target audience you'll need something which is different and genuine. The online consumers consider 'authenticity' as one of the top qualities which engage them with a brand. A well-polished statement about your product won't be as effective as sincere, real-life reviews.
Negative Reviews Can Also Be Valuable-Why?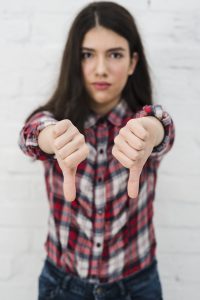 Even though you don't feel like, it's necessary that you display both- the positive and negative reviews of your business. Brickbats are a part of the feedback and yet valuable so it should be treated as such. The people who buy your product know it better than anybody else so considering their opinions can lead to the betterment of your product.
It goes without saying that nobody wants a large number of pages with negative or one-star reviews for your products. Anyways, a few such reviews in between can help perk up your brand credibility. A 10/10 or 5/5 average review may seem doubtful but a 9/10 and 4/5 looks much more genuine and tells your audience that the feedback is with a ring of truth.
Although having a few imperfect reviews can decrease your product's average rating, it will certainly have a good impact on your business over a period of time. This doesn't mean you won't encourage positive reviews. By providing excellent service to your customers, you are likely to get more positive reviews.
Do respond expeditiously and professionally to all those negative feedbacks. Not replying to their issues and concerns will make them feel even more ignored and angrier. Moreover, it doesn't look good to other customers who see that your feedbacks are unanswered. Take enough time to identify the issue so that you can figure out a mutual-benefit solution for any of the complaints.
Adding Customer Reviews to Your Site
Adding reviews to your site is not that difficult. A lot of online tools are available that can be helpful for adding reviews to your website. Let's have a look at the most effective ones.
One of the most popular tools for collecting user reviews is Trustpilot.
It has an easy integration using a website builder. This tool also sends feedback reminder emails to existing customers. You can buy a business plan that starts at around $299. However, a free basic account can also be used, if you do not want to opt for their business plan.
Another one is ReviewBuddy that not only displays reviews of existing customers, but also average star rating for your site. This tool is not that pricey and even free version is available to use. The users can give in their feedback directly from your website or from the review request email that ReviewBuddy automatically sends.
Feefo is yet another great tool for collecting feedback from clients. It's used by a large number of companies such as Expedia, Next and Aviva. Even though it's quite costly than some of the other available options, it comes with countless features. You need to contact them for pricing and other details because their plans vary client to client.
Also read: How to Create a Website? A Beginner's Guide

Closure
Trust plays a vital role in the growing phase of your business. Without trust, people won't just get converted like that. Therefore, by showing the reviews of your products, a trusted relationship will be established with your customers.
Taking feedback from your customers will also provide an insight into how your product or service is doing. Reviews are worthwhile and a good source of feedback. Focusing on those inputs from your customers can help you achieve great heights.
Do you have something more to add about online reviews or any questions? Let us know in the comments section below!