Planning to take your business online? That's a very good decision. Having an online presence has become highly important for all the brick-and-mortar stores. The reason behind this is people prefer to purchase products online today due to the affordability of buying smartphones. Smartphones has made accessibility to the internet easy and so, people prefer being on the internet all the time.
To be on the internet you need to develop a website for your business. You will find many web developers who design websites in a professional way. But you aren't ready to invest and have the idea about website development you can easily develop one on your own.
In case you are a newbie to website development but still want to develop the website on your own, you can take the help of website builder tool available with your web hosting plan.
Prior to selecting a web hosting plan, you will need to select a web hosting provider. Finding the best web hosting provider can be difficult due to several choices available in the market.
To make your work of finding a good web host easy, here's a review comparison of two web hosts from which you can select one.
MilesWeb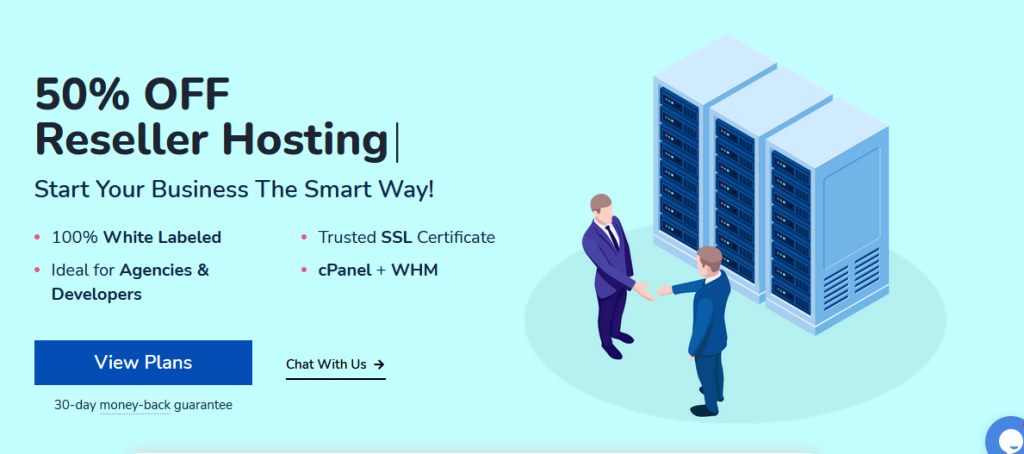 MilesWeb has helped many individuals to start that own web hosting business. Their reseller hosting plans are not only affordable but also offer several benefits to their clients.
They offer 4 types reseller hosting plans – Micro at $3.5/mo, Startup at $6/mo, Grow at $11/mo and Expand at $16/mo.
They offer free migration on their servers and that too without any data loss. You just need to inform the time about the migration and they do it for you without letting your website go down. They also offer free SSL certificate to secure your website by keeping your website data encrypted when it is transferred on the internet.
Additionally, you can use your own brand name for selling web hosting to your clients.
Other features offered with MilesWeb reseller hosting plans are SSD disk space, unlimited bandwidth, cPanel, WHM, Softaculous, unlimited MySQL DBs and unlimited accounts. They offer website backup as an optional service (paid) but one shouldn't neglect it. Furthermore you get 24/7 customer support, 99.95% uptime, 30-day money back guarantee as well as knowledgebase and blog articles that guide to on various web hosting queries.
Pros: Low introductory prices, unlimited domains and free domain reseller account.
Cons: Paid website backup service.
HostGator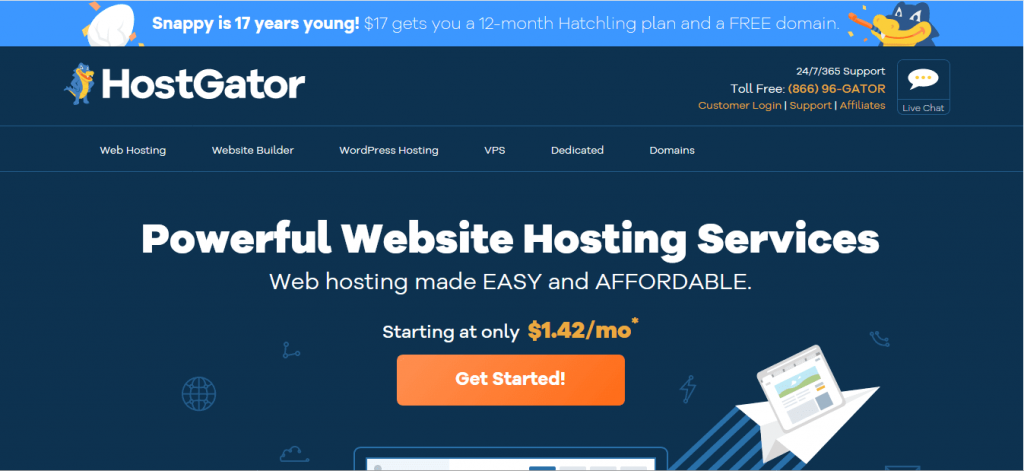 HostGator offers you unlimited domains or the ability to add multiple domains.
But you need to check the amount of bandwidth and disk space your web host offers you to include your customers.
HostGator offers a limited amount of disk space and bandwidth to its customers but unlimited domains on each reseller hosting plans.
You get three reseller hosting plans from HostGator: Aluminum at $19.95/mo*, Copper at $ 24.95/mo* and Silver at $ 24.95/mo*. Being introductory plans, these plans are available at the mentioned price only if you buy reseller hosting for 3 years.
The features includes in all the three plans are free SSL certificate, unlimited domains and a big bag of goodies such as unlimited MySQL databases, unlimited email accounts, the ability to customize the disk space and bandwidth for your customers, a brandable cPanel, weekly off-site data backups, 24/7 server monitoring, 30-day money back guarantee and over 400 video tutorials for your clients that you can offer with your brand name.
The plans are different from each other due to the amount of disk space and bandwidth offered. With Aluminum plan you get 60GB of disk space and 600GB bandwidth, Copper offers 90 GB of disk and 900GB bandwidth, and Silver offers 140GB and 1400GB of bandwidth.
They have kept the pricing for Copper and Silver plans because there are introductory prices offered only on a three year commitment. In the fourth year, the prices get increased.
Pros: Low introductory prices, unlimited domains and 45-day money back guarantee.
Cons: Three-year commitment for best prices.
InMotion Hosting

InMotion server its clients with the most varied offerings. Most resellers offer between one and four options for reseller hosting, InMotion offers six. Out of the six, three of those are standard reseller shared hosting plans and three are reseller VPS hosting plans for high control over your hosting quality.
The three reseller shared hosting options are R-1000S, R-2000S, and R-3000S priced at $15.39 per month, $21.99 per month, and $30.24 per month respectively, for two years commitment. The VPS plans are VPS-1000, VPS-2000, and VPS-3000 priced at $41.64 per month, $62.84 per month, and $89.94 per month respectively, for a single year's commitment.
The plans vary from each other. All the plans include unlimited domains and websites, a free domain, unlimited email accounts, malware protection, and a free cPanel license. Same as other resellers, InMotion too offers white label so that you can brand almost everything with your own company name and logo.
VPS plans also offer some extra features such as optimizations for eCommerce, root access and redundancy.
Their shared hosting plans start with 80GB of disk space and 800GB of bandwidth in R-1000S, 120GB of disk space and 1200GB of bandwidth in R-2000S, 160GB of disk space and 1600GB in R-3000S plan. The VPS plans start with 75GB of disk space and 4TB of bandwidth in VPS 1000, 150GB of disk space and 5TB of bandwidth in VPS-2000 and 260GB of disk space and 6TB bandwidth in VPS-3000.
In VPS plans you get SSD storage which helps the servers run much faster than those using hard drives. Each VPS plan comprises of specific amount of RAM. Also, dedicated IPs are included in their VPS reseller plans while all the shared hosting reseller plans have just one.
With a VPS plan, you get more control over the server operation as you will run it but this also means that you should stay up-to-date on security patches and handle other maintenance on your own. Their VPS plans are recommended for resellers with several clients that consume a higher amount of resources.
Pros: Enough plans to meet any needs, daily backups and unlimited domains and websites.
Cons: No eCommerce support.
A2 Hosting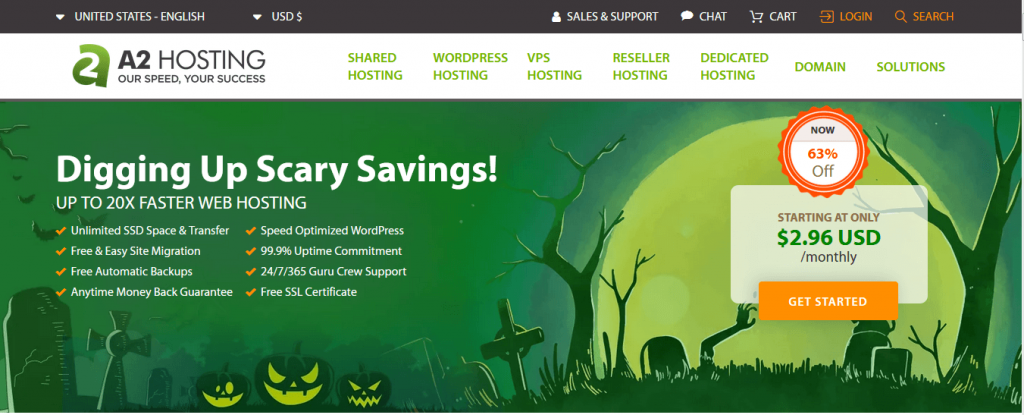 Most of the individuals prefer Linux servers, but some prefer using Windows. A2 hosting is one of those resellers that offer Windows hosting. May it be Linux or Windows, A2 Hosting offers four types of reseller hosting plans for each type of operating system: Bronze, Silver, Gold, and Platinum. Same as HostGator, A2 offers the best prices only if you agree for their three year commitment.
Linux
Their Linux reseller hosting plans comprise of Bronze at $9.80/mo, Silver at $13.72/mo, Gold at $18.13/mo, and Platinum at $30.38/mo respectively.
Bronze comes with 30GB of storage, 400GB of bandwidth, and up to 40 customer accounts. The Silver offers 75GB storage, 600GB bandwidth, and up to 60 accounts. Gold includes 150GB storage, 1TB of bandwidth, and up to 80 accounts. Finally, the Platinum plan has 200GB storage, 2TB bandwidth, and up to 100 accounts. With each plan you get eNom domain reselling, anytime money back guarantee, and a 99.9 percent uptime commitment.
Windows
The Windows reseller hosting plans offered by A2 Hosting are a bit more expensive per month. Their plans start with Bronze at $14.51, Silver at $19.79, Gold at $25.73, and Platinum at $42.23. The features offered include storage, bandwidth, and accounts similar to the Linux plans, and include the same access to eNom, money back guarantee, and uptime commitment.
The Linux plans include the usual cPanel access while the Windows plans include Plesk.
Pros: Low introductory prices, Unlimited domains and 45-day money back guarantee.
Cons: Three-year commitment for best prices.
SiteGround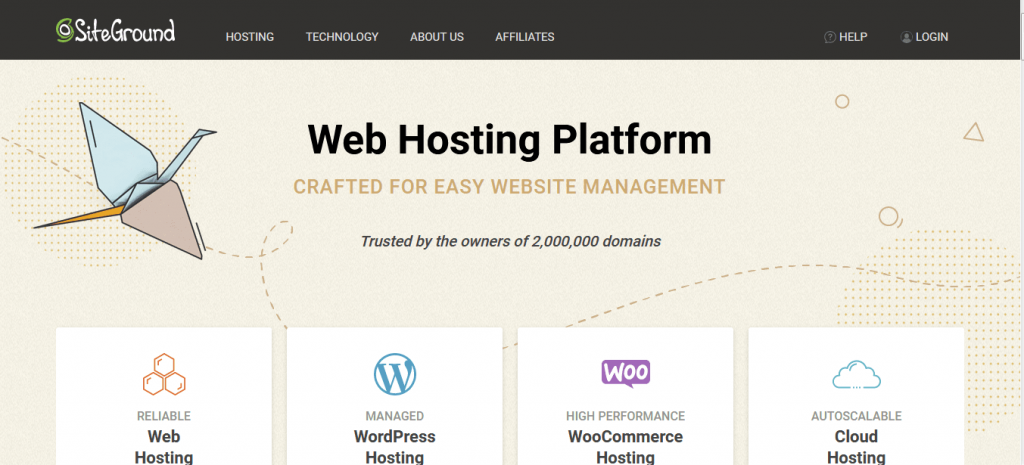 Initially, SiteGround's reseller hosting appears to be very complicated with a credits system to purchase hosting.
Once you start, the credit scheme becomes very straightforward. But at the start you will need to invest more money. Still the upfront cost is less than a third of what you would pay for HostGator's starter plan.
Rather than offering multiple bulk hosting options that you can divide among your customers, SiteGround offers a single plan that is suitable for one client. For increasing the amount of hosting it is needed to purchase more of these single plans.
For a single year of SiteGround's hosting plan you need to pay one credit, and to get started you need to pay for five credits costing a minimum of $225 upfront. You can use those credits to purchase hosting at any time, and they never expire. It is possible to drop the per-credit price by buying more than 11 at $42 per credit.
May it be any rate selected, you will be paying $3.50 to $3.75 per month, per customer for reseller hosting with Siteground.
With one reseller you get a year of SiteGround's StartUp shared hosting plan that comprises of 10GB of disk space, around 10,000 monthly visitors, and one hosted website. SiteGround also offers a global CDN powered by CloudFare, unlimited free email accounts for a single domain, and SSD storage.
Pros: Straightforward pricing scheme, Reseller pricing cheaper than Siteground's StartUp shared hosting.
Cons: Hosting plans don't expand to meet growing demands of your clients, No ability to divvy up bulk amounts of disk space and bandwidth.
Wrapping Up
When it comes to reseller hosting, you should check for the pointers such as unlimited domains, domain reseller account, white label reseller hosting, disk space and bandwidth. These are important because you are going to sell web hosting to your clients with these features. From the above 5 reseller hosting providers you can select one that fulfils your requirements and start selling web hosting.