Having all the hosting brands available on the internet, it may confuse you which one to choose. If you are considering Bluehost in your choice, then this review will help you to know more about it. Also, it will guide you about what different solutions and plans does Bluehost provides.
Related: Selecting the Right Type of Web Hosting for Your Website
About Bluehost :
Bluehost was started in the year 2003 and is one of the leading web hosting solutions company. It continuously strives in innovations so as to empower people to fully harness the web. The company is based in Orem, Utah, and provides comprehensive tools to millions of users throughout the world so anyone (i.e. novice or professional) can easily get on the web and thrive with their web hosting packages.
In 2003, Bluehost hosting service was founded by Matt Heaton and Danny, and till date, they have powered over 2 million websites all over the world while also they support thousands of sites on daily basis. A team of 750+ employees is always ready to support you around the clock to become the only best web hosting company for their users.
Since 2010, Bluehost is a part of the Endurance International Group's family of brands and with their support and backing, the company is accelerating every day towards its mission.
Bluehost provides different types of web hosting services, so that it becomes easy for you to select one as per your current requirements.
1. Shared Hosting –
Shared Web Hosting is a perfect option for getting started online. It is a best choice for blogs, hobbies, and even small business websites.
Plans under shared hosting are Basic, Plus (recommended) and Pro.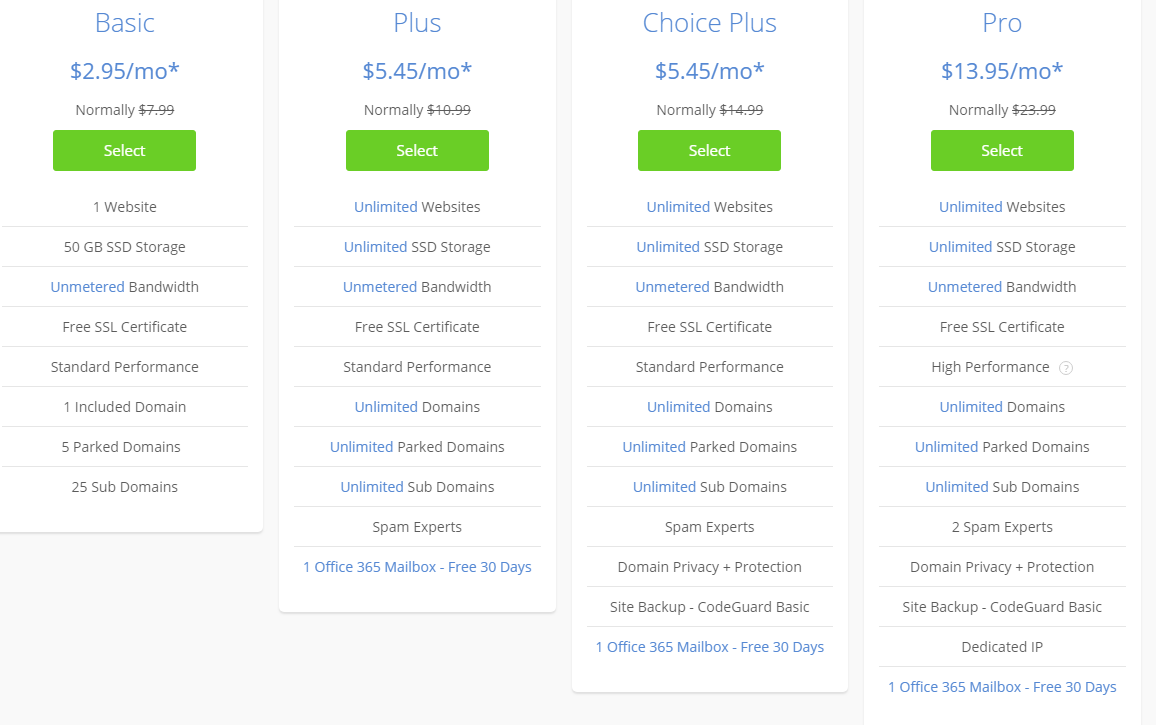 All shared hosting plans come with the following services :
(i) Domain Manager –
The domain manager makes it easy to track, update, transfer, purchase and administer all of your domains at the same place. Plus and Business Pro accounts also support unlimited add-on, parked domains, and also subdomains along with domestic and international domains.
(ii) Resource Protection –
Bluehost's technology identifies websites that use excessive resources and temporarily re-assigns them to isolated systems. This protects your website's performance and reduces the frequent risks associated with shared servers.
(iii) Scalability –
You get the scalability of enhancing the features and plans with the rise of your requirements and website growth. The custom technology lets you upgrade in just a few clicks.
(iv) SSL Certificates –
SSL certificates are powered by Let's Encrypt which helps to secure the connection between websites and your visitors. This helps to protect personal information, e-commerce transaction and other sensitive data.
(v) Marketing Credits –
With Bluehost shared plans, you can receive $ 100 for Microsoft Advertising and $ 100 for Google Ads on spending your first $ 25 on a new Microsoft Advertising and Google Ads account.
2. VPS Hosting –
The virtual private servers are built from the ground up using all SSD storage, which provides increased power, flexibility and control for your website.
VPS hosting plans :
(1) Standard – $ 18.99/mo*
Features are :
• 2 Cores
• 30GB SSD Storage
• 2 GB RAM
• 1 TB Bandwidth
• 1 IP Address
(2) Enhanced – $ 29.99/mo* (Recommended)
Features are :
• 2 Cores
• 60 GB SSD Storage
• 4 GB RAM
• 2 TB Bandwidth
• 2 IP Addresses
(3) Ultimate – $ 59.99/mo*
Features are :
• 4 Cores
• 120 GB SSD Storage
• 8 GB RAM
• 3 TB Bandwidth
• 2 IP Addresses
Additional features with VPS plans are :
(1) A free domain name for 1st year –
Each new VPS plan comes with free one-year domain registration and after that, you can renew the domain at market price.
(2) 30 days money-back guarantee –
You can easily deactivate the Bluehost service if you are unhappy with them. But remember, you can cancel the service within 30 days of your purchase only and get a full refund of hosting fees.
(3) Root Access –
To all the advanced users an enhanced cPanel control panel offers full access to CentOS, which gives you complete control over your server.
(4) Instant Provisioning –
Bluehost takes you running on the internet within seconds, as they have designed their VPS servers to provision immediately.
(5) Dynamic Resources –
With Bluehost, you get the additional storage on the fly. The enhanced cPanel and server expansions are competitively priced and to enable them you do not require admin access.
3. Dedicated Hosting
Dedicated hosting is the best choice for the websites that require the ultimate performance, security and control.
Plans for dedicated hosting.

The dedicated plan incorporates all the features from shared and VPS hosting, and also, it has some advanced features and they are :
(1) Unmanaged –
All the advanced users can have unfettered access and control over everything from the operating system to Apache with Bluehost's unmanaged dedicated server hosting.
(2) Improved cPanel –
Every dedicated configuration comes with an option of the enhanced cPanel-based interface. This option makes it easy to manage websites, domain, resources, emails, etc from one central location.
(3) Multi-Server Management –
You can opt for more than one hosting service by simply adding shared hosting, VPS hosting, or even additional dedicated hosting services to your existing account. It also makes easy for you to manage all of them from a single place.
4. WordPress Hosting
Bluehost offers shared hosting that delivers exclusive tools and expert advice that you won't find anywhere else. This helps you to get your WordPress site up and running fast within no time.
Breakdown of WordPress plans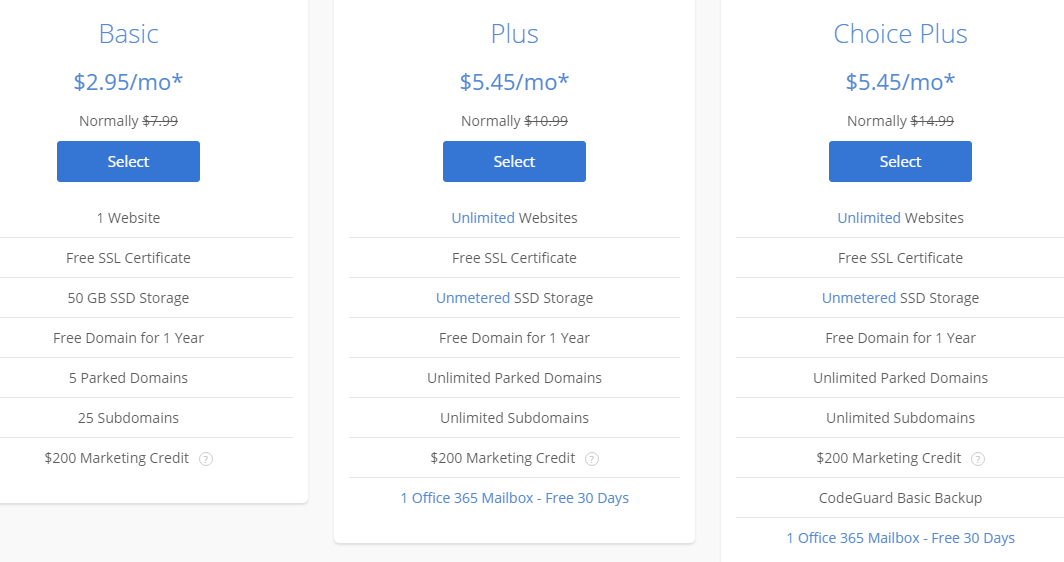 WordPress hosting at Bluehost offers you the following features :
(1) Fully-Customizable Websites –
This feature works for everything like a blog, small business or side hustle that needs easy customization until it just gets right.
(2) Exclusive Plugins and Themes –
The Bluehost Marketplace is a one-stop-shop for everything right from plugins to themes that you need to make your WordPress function at its best.
(3) Automatic WordPress Updates –
Bluehost keeps your WordPress site up to date and also provides the latest and greatest security patches to prevent malicious activity.
(4) Automatic WordPress Installation –
After setting up your WordPress hosting plan, Bluehost takes the responsibility to install the latest and most secure version of WordPress.
These are some of the best known hosting types and their plans offered by Bluehost.
Now, let's see the pros and cons of using Bluehost.
Pros :
1. Fast Load Speed –
The average page loads in 406ms which places Bluehost at the 4th place in terms of loading speed.
The loading speed records from 2018 to 2019.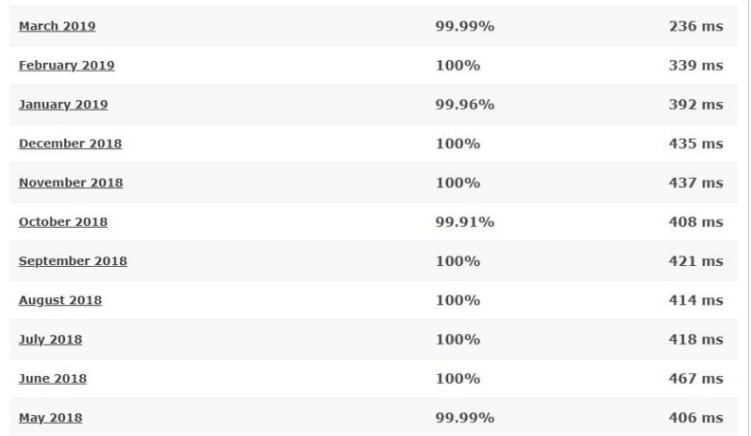 Related: How Website Downtime Hurts Your Business?
2. Strong Support – 24/7
Support is a vital part of any hosting company and Bluehost has a strong stand in it. They provide 24/7 technical support to all their clients and users.
3. Best Uptime – 99.99%
To ensure that your website remains up and working on the internet all the time, Bluehost provides 99.99% of uptime to all the accounts hosted with them.
4. Good Security –
All plans include a domain privacy feature that keeps the personal information on your site private. This limits hackers from finding and using your personal details for phishing schemes to trick you or others into handing sensitive information.
5. 30 days money Back Guarantee –
If you are not satisfied with the service, you can ask for refund within the 30 days of your purchase.
Some of their important terms and policy points :
• You can only get the refund on the web hosting cost and not on any other products like domains and add-ons.
• Amount of $15.99 fee gets deducted if you receive a free domain name in your plan.
• Any request for refund after 30 days will not be accepted.
Now, let's hop over the cons of Bluehost hosting.
Cons :
1. High Renewal Prices –
You might be getting the first plan at low rates, but the renewal prices are high. So you can consider the other option of prepaying for about 2-3 years, but for that, you need to ensure to lock with them for such a long duration.
2. Site Migration is not free –
If you already have a hosting account with some other provider and want to migrate it to Bluehost, then you will have to pay for it. They have a one-time fee of $149.99 that includes the migration of up to 5 websites, 20 email accounts and other database files for these sites.
3. Smaller amount of storage –
As compared to their competitors, Bluehost provides smaller storage with the basic plan.
So, is Bluehost a right choice for you?
Well, if you are looking for a good uptime and are ready to pay bit higher then Bluehost can be a good choice for you.
Some of their reviews :